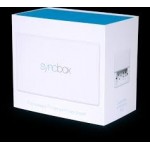 Syncbox is the world's only hidden socket and connection system. It is universally adaptable and offers a recessed wiring solution for TV, media and speaker system installations. It is an ideal product for homeowners who want to keep their cables looking neat and tidy, which tends to make them a lot safer as well.
Excellent Quality
Compared to traditional media outlets, Syncbox is around 50% smaller and thinner, which creates a much cleaner and more professional finish on a wall. The protective cover keeps all plugs safe and secure. Every Syncbox comes with a hybrid installation box. This means you won't have to spend extra time changing installation boxes when installing into hard or dry walls. Syncbox can be used for both. The slick finish of this hidden socket will be sure to give any home cinema room a modern and stylish feel to it.
Trusted Brand
At AW Electrical Supplies, we take pride in our ability to offer our customers the finest quality goods, after we have sourced all of our stock from trusted, industry leading manufacturers. You can feel confident that when purchasing Syncbox, you are purchasing quality.
To find out more or to ask our advice on whether the Syncbox is right for your project, please feel free to give us a call or pop into our shop in Enfield. We are happy to answer any questions you may have about any of our products or your project requirements.