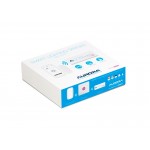 If you want to install a smart lighting system in your home, we can offer a range of smart home lighting products from trusted brands. In fact, at AW Electrical Supplies we only stock the best, making us confident that you will be satisfied with your purchase.
Convenience & Control
Smart lighting allows you to control your lights using remote controls, smart phones and tablets. These controls allow you to adjust the light intensity, colour and timer settings, all within one simple app. Some of our smart lighting products are also compatible with Google Home and Amazon Alexa, to ensure your smart lighting integration allows for innovative voice control.
Excellent Service
Here at AW Electrical we are also happy to offer our expert advice on light management solutions. Our staff are fully trained and well experienced and always more than happy to help. We are proud to provide our customers with the latest home automation products that are designed to improve productivity and efficiency in the home. In many cases, smart home technology can actually help you save money on utility bills, making it a worthwhile investment.
We have a number of quality smart lighting solutions available online, but if you would like to discuss your home automation options and find out more about what AW Electrical has to offer, simply give us a call on 020 8344 8764 or email bill@aw-electrical-supplies.co.uk.