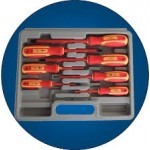 If you want to do a job right, you need to start with decent tools. AW Electrical stocks a wide range of hand tools, including everything from screwdrivers through to LED inspection lamps and head torches.
Whether its Draper's professional range of tools or Wera's more specialized engineers sets we have it covered.
Need somewhere to keep them all? Check out our range of tool bags.
We only show limited stock on the site, so if you can't find exactly what you're looking for, just give us a call on 0208 344 9764 or visit us at our Enfield shop. We can arrange deliver over the phone or you can come in and pick up your order whenever it suits you.