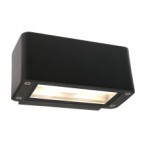 If you're looking for attractive and economical wall lights then look no further. Both in-store and on our website, you will find our range of LED and incandescent wall lights, which are suitable for indoor and outdoor use. We are a prosperous independent wholesaler of quality lighting and other electrical goods and we take pride in our ability to meet a varied range of project requirements.
At AW Electrical Supplies, we have a strong focus on modern, stylish lighting that blends seamlessly with any room, whether that is in a domestic or commercial building. We can even source fittings from manufacturers such as Intalite, Firstlight, Astro Lighting and JCC, to name but a few.
By sourcing all of products from renowned and reliable brands such as those mentioned above, we are confident in our ability to provide customers with outstanding quality, long-lasting and completely safe electrical products.
Browse our range of decorative wall lights below and if you find something you like enough to place an order before 2pm, you can expect to receive it on your doorstep tomorrow. If, on the other hand, you can't find what you're looking for, our fully trained staff are more than happy to provide their assistance and offer their advice. Simply call 0208 344 9764 or visit our Enfield trade counter.
You shouldn't have any trouble installing your new wall lights and it's unlikely that you'll need any professional assistance. However, you're more than welcome to get in touch if needs be. As well as wall lights, we stock a number of LED lamps to provide you with consistent light and lower energy consumption.