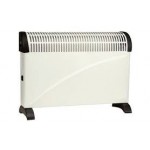 AW Electrical offers a wide range of panel and convector heaters from a range of the industry's top brands.
Panel heaters are slim, efficient alternatives to traditional radiators that are available for a fraction of the price of a water-based heating system. They're an excellent choice for on-demand heat in any room and even outside (depending on your extension cord). There's no need to wait for the entire heating system to start working or to spend money on heating rooms you're not in. They're particularly useful as a backup in case your central heating system is faulty and can't be fixed immediately, or just if you're working in the shed or garage and need a bit of additional warmth. The heaters do not wear out quickly and the running costs will have a relatively low impact on your overall electrical bills.
Convector heaters are typically used in individual rooms on a short-term basis, but panel heaters can be installed throughout the home and come with adjustable thermostats so you can control the temperature well beyond what you would with a convector.
Unlike traditional radiators, these are wall mounted and you do not need an expert to add them to your home. Most of our brands come with a warranty from the manufacturer and come with a hinge-down mounting bracket where required. They are recommended for any room apart from the kitchen or bathroom where they may be in contact with water.
Take a look at our selection below or call our Enfield store to find out more about what we have in stock and how you can improve the heating in your home or building project. We also stock a range of heating mats and underfloor heating solutions for easy installation and increased efficiency.