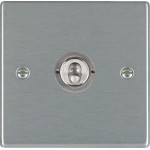 When working on a construction or electrical project, you will no doubt want the results to be perfect, from the functionality to the appearance. That's why many of the products we stock at AW Electrical Supplies are sophisticated and sleek, so that they complement any contemporary interior design. We work with a variety of superb suppliers to ensure you are fully satisfied with your products. Please don't hesitate to browse our range.
Huge Range
Although you will find that there is more choice of switches and sockets in-store, our online store displays an assortment of decorative wiring products which you can order at your convenience.
Stylish Design
Hamilton's variety of decorative accessories are each designed to add stylish yet subtle finishing touches to your home or office décor. In fact, many of their light switches and sockets are often used in luxury buildings, such as upmarket hotels, due to their timeless appearance.
Respected Brand
Hamilton are market leaders and a highly respected brand in the industry. They have been designing and producing lighting and electricity controls in the UK for almost 50 years. Their expertise and experience allows for the manufacture of simple, yet high quality products that are hardwearing, safe and reliable. In addition, their products always comply to appropriate regulations.  
If you have any questions or are struggling to find exactly what you're looking for, please feel free to give us a call on 0208 344 9764 where our well-trained staff are always happy to help.