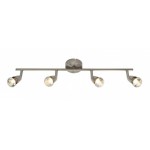 Surface spotlights are perfect for mounting to your ceiling or wall in areas where you'd like to adjust and redirect the light. They can be used throughout domestic and commercial properties, and our attractive range of lighting from brands such as Saxby allows you to choose a look that suits any room's aesthetic.
Once you've found what you need, you can easily order online for prompt delivery. If you can't find exactly what you want, why not give us a call on 0208 344 9764 or visit us at our Enfield shop to find out what we have in stock.
You can also buy LED lamps on our site to complete your lighting – we offer energy saving options and a variety of lighting shades and temperatures.