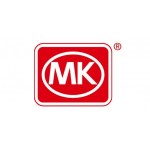 Logic PlusTM wiring products from MK Electric have been manufactured to an excellent standard so that they work well with any modern interior. They are inexpensive, unobtrusive and highly sophisticated, to ensure long-term customer satisfaction. What's more, they are easy to install, with line terminals, funnel entrances to terminals, back out and captive screws and clear terminal markings. You shouldn't have any problems, but do get in touch if you have any questions.
MK Logic Plus products have been thoroughly tried and tested to ensure they meet appropriate safety regulations, to ensure there are no accidents. In fact, their products actually surpass British Standard requirements and they are known to be the most advanced and safest available. We are proud to work with such renowned manufacturers and are confident that all of our customers will be satisfied, long after they place an order with us, as a result of such outstanding quality goods.
Please feel free to browse our products below. If you can't find what you're looking for or you need some advice, you're welcome to call us on 02083 449 764. Our staff are all fully trained industry experts and will happily assist you whenever you need help. Alternatively, you can pop into our Enfield store, where we have an even larger variety of stock, and speak to a member of the team in person.
Once an order has been placed on our website, you won't have to wait long for it to arrive at your chosen delivery address. All orders placed before 2pm are dispatched the same day, depending on availability, and will arrive the day after. You're also more than welcome to pick up your order from store, if that's more convenient for you.