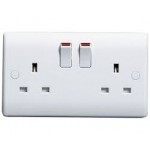 White plastic switches and sockets are an extremely popular choice across the UK because their basic style goes well with any décor. As a result, they are fitted into homes, offices and most other buildings on a regular basis. For this reason, it's extremely important that they are superior quality; they must comply with the latest safety regulations, be fully reliable and quick and easy to install.
Trusted Manufacturers
At AW Electrical Supplies, we only stock products that are manufactured by worldwide market leaders because we want your electrical project to run smoothly. This means you can rest assured your white plastic products are of the finest quality and will last for years to come.
Sleek Design
Although white plastic electrical accessories might be fairly minimal in design, they are traditional and sure to suit any interior. They will not look intrusive or out of place due to their small, sleek shape.
Affordable
One of the greatest benefits of these products is that they are extremely inexpensive, because we don't believe that your basic electrical supplies should cost a lot.
Large Range
Our range is fairly big and you can order online at any time. However, if you do happen to be unsure about something or can't find exactly what you're looking for, you can call us on 0208 344 9764. Our staff are always friendly, well-trained and professional and will be able to answer any questions you may have.