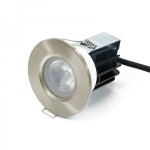 The right indoor lighting can transform a room, improve the comfort, and reduce your energy bills. AW Electrical offers a range of lighting options for any room and budget, including fire-rated downlights, LED lighting, surface spotlights, amenity bulkheads, and decorative wall lights.
Lighting for Every Room
Your lighting needs differ from room to room – it's likely you'll need brighter and more consistent lighting in the living room, where you spend more time reading and working when it gets dark. Spotlights are a top choice for bathrooms where there isn't much space for more elaborate lighting fixtures and they offer consistent, high quality light for doing more sensitive tasks like shaving and applying makeup. They're also a great choice for kitchens or to add any lighting additional option to any room. Many of our customers like to pair up wall lights, for softer light, with some spotlights for when they need the room to be brighter.
We offer standard, energy-saving, and dimmable lamps so you can find exactly what you need.
Quality and Value for Money
At AW Electrical, we pride ourselves on offering high quality interior lighting at fantastic prices for both trade and retail customers. You don't need to spend a fortune for high quality lighting – it can actually save you money by using less electricity to run.
You can order online by browsing our lighting selection below, order over the phone, or come to our Enfield shop to find exactly what you need. If we don't have your preferred lighting in stock immediately, we can order it in for speedy delivery.
We don't just offer indoor lighting – we also have a range of outdoor lighting options for security and safety, including floodlights, recessed lights, and decorative lanterns.