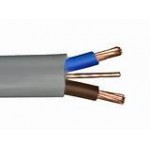 As a reliable supplier to construction and installation companies across London and the neighbouring areas, AW Electrical are delighted to offer a broad range of different cable products, ideal for anything from a large industrial project to a smaller, simpler home re-wiring.
Our comprehensive stock includes single core conduit wire, fire-performance cable, SWA's and H07's. We supply cables in an assortment of different lengths and grades, to ensure you have the supplies you need no matter what the project. Cables can also be cut, if necessary.
What is Twin and Earth Cable?
Twin and earth cable is the colloquial name given to the most conventional cable used for household and commercial wiring. It includes two individually insulated current-carrying conductors as well as a Circuit Protective Conductor.
This type of cable should not be used in an area reached by strong sunlight or where it might be susceptible to frequent movement. We supply flat PVC insulated and sheathed cables in various sizes to ensure you have the right cables for any domestic or commercial project.
As part of our dedication to quality and outstanding service, we always ensure that all of our cabling products are BASEC approved and suitable for all kinds of projects. We stock all standard UK sizes but if you can't find what you need in the selection below or you need a larger quantity, please don't hesitate to give us a call or visit us at the Enfield trade counter. All of our cables are available for next day delivery, allowing you to have them even at short notice.